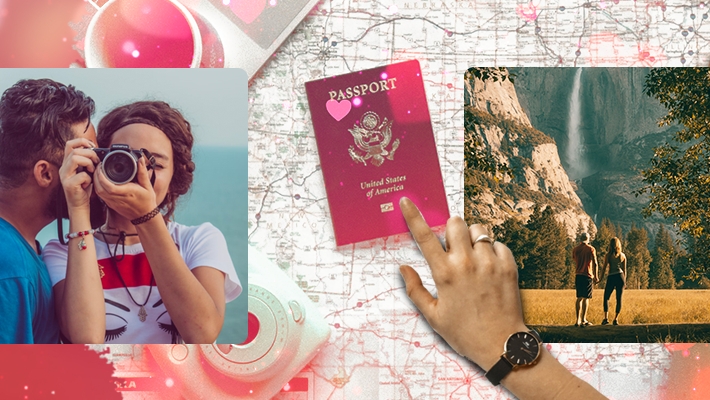 5 travel deals to save Valentine's Day and get you on the road
If you're on the hunt for a last-minute Valentine's Day gift, here's your reminder that a clichéd box of chocolates from your local convenience store just won't cut it. Instead, go for something more thoughtful that you can always order in a snap. Even better if it's something memorable that you can do together.
Nothing says "I love you" like a romantic vacation for two. And no, you don't need to blow your entire paycheck on this trip. Whether you want to go on a low-key weekend getaway or treat your loved one to an overseas adventure, check out our top five Valentine's Day travel deals below.
These local and international travel deals are a surefire way to show your affection (and take the stress out of eleventh-hour shopping).
Amtrak loves you sale
Rail travel is set to be one of the top travel trends for 2022, so why not jump on the bandwagon with someone you love? Until February 16, Amtrak customers can purchase a ticket and bring a companion free to travel nationwide between March 1 and August 31, 2022. It's the ultimate BOGO deal.
How much fun is an intimate train that rides along the coast? A trip through the mountains? Yes, this gift will make you sleep… on a train.
Take advantage of the Amtrak Loves You sale and use discount code "V214" when booking your trip.
Emirates Valentine's Sale
If you really Want to impress your Valentine and have the trip of a lifetime, browse Emirates' Valentine's Day offers. The Dubai-based airline offers tickets from under $600 from New York, Boston and Florida to some of the world's most luxurious destinations.
Until February 14, you can book flights to dream locations across Europe (Milan, anyone?), Southeast Asia, South Africa and beyond. You can even get to Dubai for less than $800 per person. The catch is that you'll have to make your trip before May 31, so now's the time to start planning. As… at present!
Palladium Hotel Group Endless Love Promotion
Nothing like a chic hotel room to raise the level of sensuality of your couple's vacation. Palladium Hotel Group is offering up to 55% off rooms in luxurious tropical destinations like Jamaica, Santo Domingo, Punta Cana, Cancún and Bahía (among others). But hurry, you only have until February 14 to book your stay.
Book now using promo code "LOVE" for deep discounts. Your significant other is going to love you for it.
Southwest National Sale
Southwest is offering incredible flight deals for its national Valentine's Day sale. The airline offers discount flights starting at just $60. Are you kidding us with that? The sale is ongoing until February 14 for flights booked at least 21 days in advance until May 18, 2022.
Although most Southwest flights are domestic, it also offers flight deals on limited international trips, including Cancun, the Turks and Caicos Islands, and the Cayman Islands. Tickets purchased with this promotion are non-refundable, so it's a good idea to confirm dates with your sweetheart in advance!
Secrets Resorts & Spas love it. Unlimited. Wrap
Valentine's Day is the perfect time to enjoy an all-inclusive experience with your loved one. Secrets adults-only properties mean unlimited luxury, from unlimited premium drinks and 24-hour room service to spa treatments and dining experiences.
This Valentine's Day, you can save up to 40% by booking the Love Unlimited package. It includes a soothing massage for couples, a romantic mimosa breakfast in bed and a welcome gift in the room. The offer is available until March 29, 2022 and must be used by December 31, 2022.