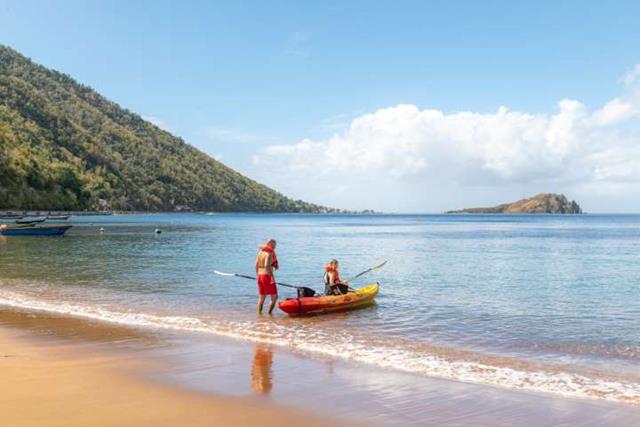 Dominica brings new travel offers to the island of nature
As travel continues to recover from the pandemic and the lifting of restrictions, Dominica (pronounced Dom-in-EEK-a) offers new hotel deals, exciting adventures and increased airfares for American travelers. Due to popular demand, Dominica's Signature Hotels have also announced the extension of popular packages and excursion offers to new and returning guests. Dominica is renowned for providing limitless adventure and thrills without harming the environment, proving to be a positive model for sustainability and ecotourism.
"We are thrilled to partner with American Airlines to provide direct USA access to our unique island," said Colin Piper, CEO/Director of Tourism, Discover Dominica Authority. "The fact that more than half of our US travelers arrive from these direct flights is a testament to the work we have done to make this happen. This partnership has been a perfect opportunity to continue to reach new heights and offer even more incredible offers for travelers to discover "L'île Nature".
AIRLINE NEWS
In December 2021, American Airlines announced its first direct flights to Dominica from the United States. Departing from Miami, Florida, travelers now have the luxury of arriving on the island in just three hours. Last spring, the flight went from just three days a week to every day, due to high demand. American Airlines operates an Embraer Regional Jet (ERJ) 175 with a capacity of 76 passengers, 12 seats in first class and 64 seats in the main cabin. Since announcing its official launch in December 2021, 65% of American travelers visiting Dominica have traveled to the island from these direct flights. For more information on tickets and purchases, visit https://www.aa.com.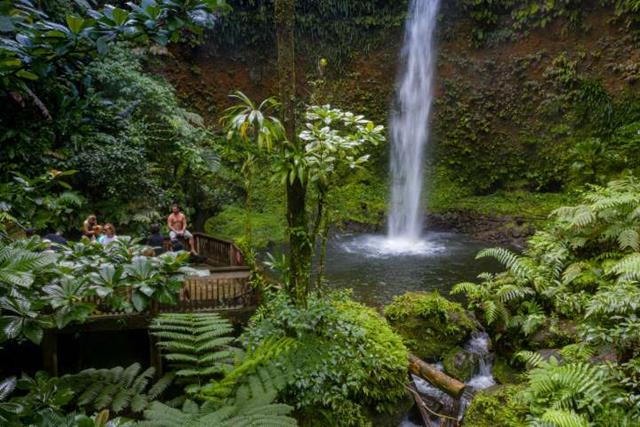 HOTEL OFFERS AND SPECIALS
Rosalie Bay
Eco-station Rosalie Bay offers its customers a Rejuvenation package, which focuses on holistic holiday methods. The holistic resort embraces the natural elements of health and wellness, engaging visitors with three pillars representing their program – 'Live Well', 'Eat Well' and 'Glo Well'. Within these pillars, fitness programs, farm-to-table cuisines and organic, plant-based spa treatments are tailored to each guest's vacation preferences. The Rejuvenation The package includes 3 nights hotel accommodation, breakfast for two, detoxifying spa treatment, yoga, round-trip airport transfer and more. All packages are available until December 16, 2022. For more information, visit www.rosaliebaydominica.com.
Manicou River
A collection of handcrafted wooden cottages, a bar and bistro, the idyllic Manicou River is located among the trees on the mountainside overlooking the Caribbean Sea, offering a true nature experience. The fully off-grid hotel is well spaced out, offering privacy and peace. All of the sustainable hotel's plumbing is rain-fed and all electricity is solar-powered, making the hotel one of the only 100% energy self-sufficient hotels on the island. Available now through October 31, 2022, the hotel is offering a special package for two, including a welcome cocktail, daily full breakfast and evening 3-course dinner featuring local specialties, local produce, farm to table and fresh produce. , native ingredients. For more information, visit www.manicouriver.com.
Jungle Bay Resort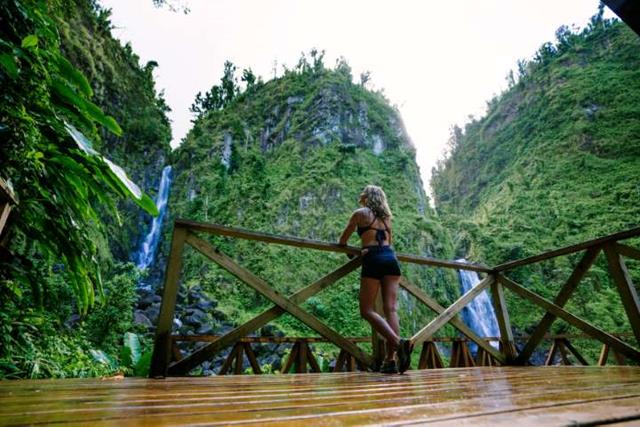 Jungle Bay Resort is a nature-inspired luxury getaway, connecting each guest to the soul of Dominica. The nature station now offers its Wellness Adventure Package year-round, including accommodation in their eco-villas, farm-to-table meals and juices, daily spa treatments, and yoga sessions. Their adventure package also includes access to island excursions, including hiking over 300 miles of trails, exploring hidden waterfalls, snorkeling at Champagne Reef, sea kayaking, touring island hot springs, cooking classes, herbal tea tastings and local rum tastings. For more information on this offer and more, visit https://www.junglebaydominica.com.
Hibiscus Valley Inn
Due to popular demand, the Hibiscus Valley Inn has extended its 7-night adventure package for new and returning customers. The week is planned for visitors, filled with adventure excursions every day. Guests can enjoy guided hikes through Twin Falls and Dominica's lush rainforests, tours of Morne Trois National Park, river tubing, riverboat rides through Portsmouth and Fort Shirley, discover the boiling lake and relaxing days on some of the island's unique black sand beaches. beaches. For more information, visit https://hibiscusvalley.com.
Citrus Stream Plantation
For families who wish to discover Dominica together, Citrus Stream Plantation is offering its "4toExplore" package until December 22, 2022. This package includes a 3-night stay at their Riverside cottage, self-catering breakfast, airport transfers, guided tours of the Botanical Gardens, Trafalgar Falls and the Titou Gorge, all site passes, and daily accommodation for lunch and dinner. For more information, visit https://citruscreekplantation.com.
TOURS AND ATTRACTIONS
Whale watching cruise
Dominica is one of the only Caribbean countries where sperm whales roam its waters all year round. Exploring the island's oceans and marine life is central to the Dominican experience, and the Whale watching cruise The excursion allows guests and their families to dive straight into the vast waters of the island. Sperm whales are usually sighted between Scotts Head and Portsmouth and not only offer visitors a chance to see these animals in all their natural glory, but also offer incredible views of the mountains and the villages of Massacre, Jimmit, Warner and Layou, for to name just a few.
Island Style Fishing with Captain Jerry
Exploring the oceans of Dominica has never been easier than Island style fishing with Captain Jerry Daway. Captain Jerry has over 30 years of fishing experience and 25 years of whale watching and diving experience. The certified dive master and boat captain takes visitors on a journey through Caribbean waters with opportunities to swim with the island's resident sperm whales and explore marine life. Choose from half-day or full-day tours of deep-sea sport fishing adventures, offered year-round.
Snorkeling in the Champagne Reef
Named after the bubbling waters rising from volcanic hot springs on the ocean floor, travelers are invited to discover Champagne Reef's dazzling underwater creatures and their homes with this guided snorkeling tour. Perched on the edge of a submerged volcano, Champagne Reef attracts snorkelers from all over the world, offering potential encounters with the remains of the 17e Spanish shipwreck of the century and high expectations for sightings of a myriad of marine life including sponges, lobster, parrotfish and a resident population of hawksbill turtles. The snorkeling tour is approved by the Department of Environmental Health and NISE certified Discover Dominica authorities with CB DECO registration manage each snorkeling tour in the Champagne Reef. Drinks are available at the dive center with each snorkeling ticket allowing guests access to the beach for the rest of the day. For more information on reservations and special packages, visit www.whalewatchdominica.com.
Discover PADI scuba diving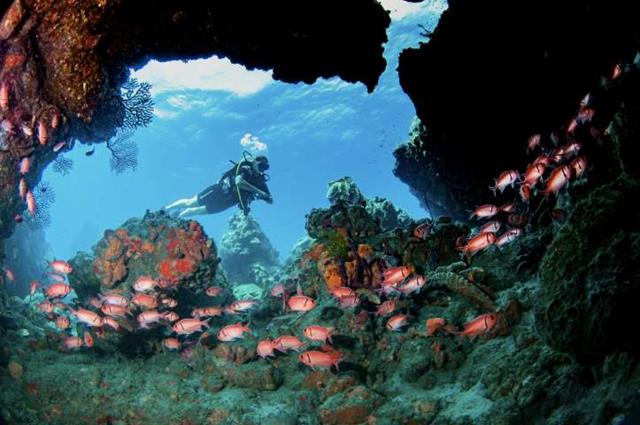 Dominica offers certification courses for scuba diving enthusiasts and the PADI Discover Scuba Diving Program is a perfect way to get your feet wet with this sport. This program is a scuba experience for adults and children aged 10+, offering shallow water breathing exercises and basic instruction at the start, then taking guests on their first real dive around the famous Champagne bubbles Beach and marine life of Champagne Reef. With certified instructors accompanying each diver, guests can experience the thrill of being surrounded by colorful fish, vibrant reefs and the rich Caribbean experience that Dominica brings to its deep blue seas. For more details, visit www.whalewatchdominica.com.
Wacky Rollers River Tubing Adventure
Dominica is home to 365 rivers – one for each day of the year. For travelers who wish to discover the rivers of Dominica, Wacky Rollers River Tubing Adventure offers a river tubing trip with a combination of rapid rapids and slow-flowing pools. The river tubing experience is not only an exciting river adventure, but also a peaceful journey surrounded by the island's lush rainforests, spectacular beach and volcanic landscapes.
Wacky Roller Jeep Safari
Experience stunning 360 degree views of Dominica with Wacky Roller Jeep Safari round. The adventure begins with some sightseeing on a short drive through Roseau and Morne Bruce leading to the famous Trafalgar Falls for a brief 10 minute walk through its lush rainforest. The jeep safari continues to Titou Gorge – the scenic spot where Disney's Pirates of the Caribbean 2 – Dead Man's Chest filmed Captain Jack Sparrow's infamous run to the natives of the island. Guests can swim between the mountains of the gorge to find its crystal clear waterfall before returning to their hotel where a delicious rum punch will be served.
Cooking with Daria
When it comes to Caribbean cuisine, there's nothing more authentic than a dining experience with celebrity local chef, Daria. Cooking class with Daria offers guests the chance to learn the secrets of traditional Caribbean cooking using the island's freshest and native produce, including seasonal ingredients like coconut rice, peas, salads tropical fish and creole fish. Let's not forget the personalized libations – guests enjoy their meal with a glass of freshly brewed island rum punch upon arrival.