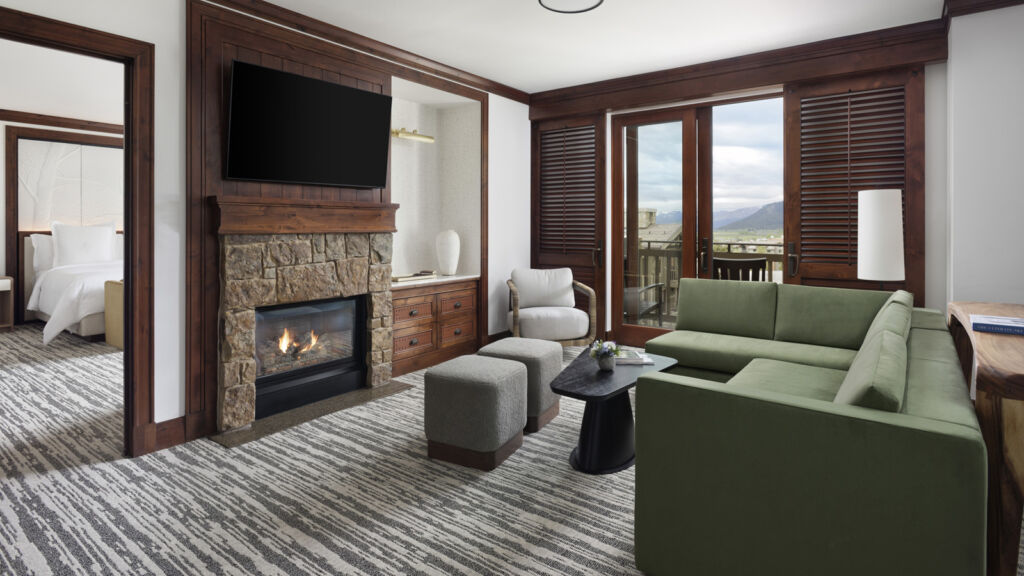 Four Seasons Jackson Hole Unveils Renovated Rooms
Four Seasons Resort and Residences Jackson Hole completes resort renovation to kick off 2022 summer season
The Four Seasons Resort and Residences Jackson Hole welcomes the 2022 summer season with the start of a comprehensive renovation of rooms and suites, inspired by the natural grandeur of its dramatic mountain setting.
"Wherever you turn in Jackson Hole, you are enveloped in stunning natural beauty and spectacular scenery," says General Manager Ryan Grande. "Our vision was to bring the warmth, beauty and grandeur of our surroundings into the bedroom experience in a modern way. With subtle colors and the incorporation of earth elements, woods and metals, we pay homage to the unique beauty of our mountain home.
Designed by Wimberly Interiors, the newly refreshed rooms, suites and public hallways enhance the luxury mountain experience with natural elements on a subtle earth tone palette. The renovation included all new vanities and mirrors, furniture, artwork, beds, lighting, wall coverings, carpets and private bar. A well-defined workspace keeps customers productive, with new high-end technology for communication and entertainment. The latest renovations build on recent upgrades to the Westbank Grill and Ascent Lounge over the past five years.
"For nearly 20 years, we've been honored to serve our customers with exceptional service and amenities," says Grande. "We are delighted to continue this tradition with beautiful new accommodations and public spaces."
To make the most of its newly upgraded rooms and suites this summer, Four Seasons Resort and Residences Jackson Hole is encouraging guests to take advantage of the Experience More package, which provides a $100 resort credit for every three consecutive paid nights. Resort credit can be applied to in-room dining, restaurant and spa experiences.
Valor Hospitality Partners has announced plans to enter the Rocky Mountain region with the acquisition of seven new management agreements.