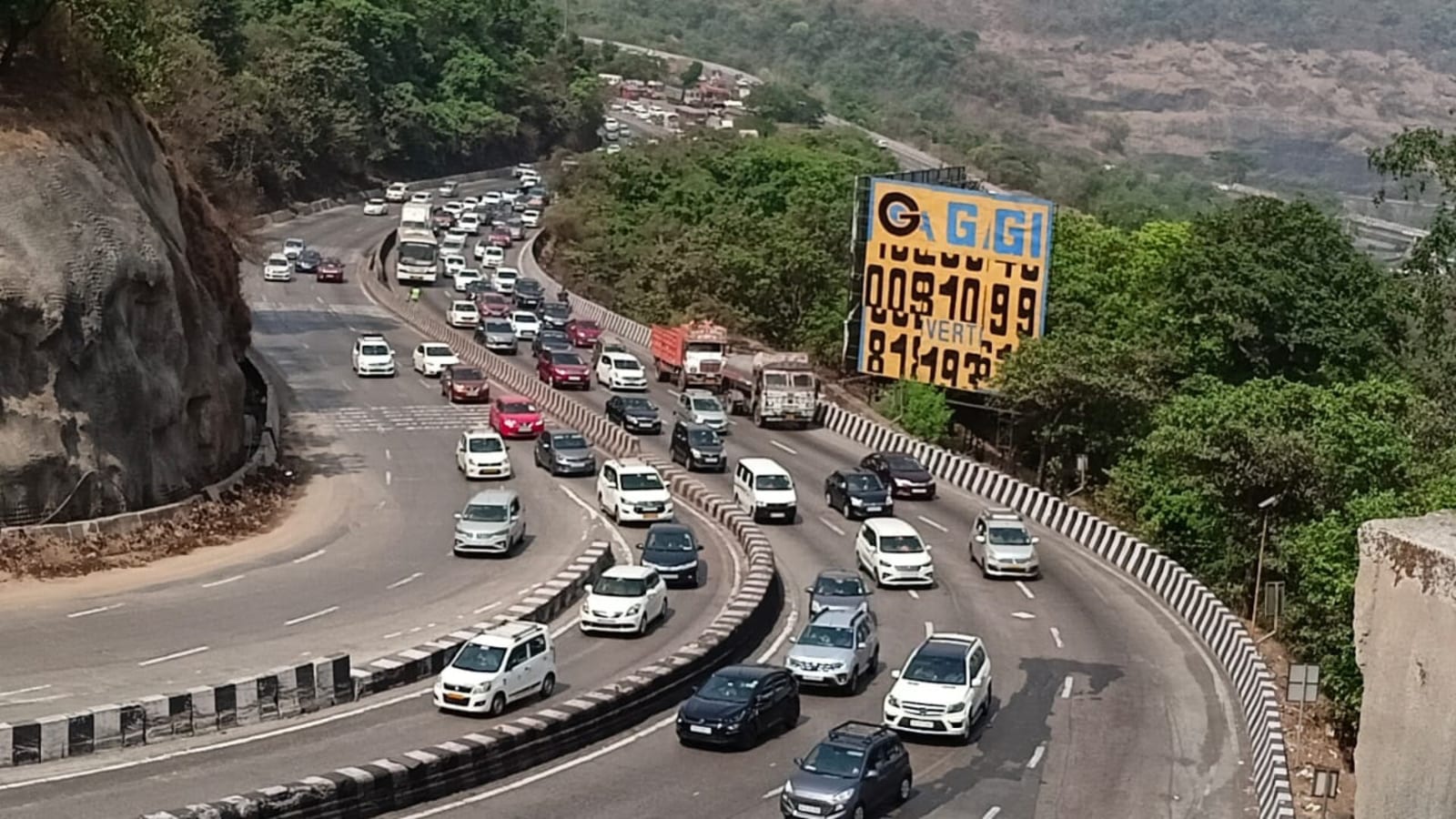 Holiday weekend: Heavy rush on the highways, hotels at tourist sites are full
A massive traffic jam was seen on the highways as Punekars made their way to outlying stations on Thursday after the weekend holiday
PUNE A massive traffic jam was seen on the highways as Punekars headed to outlying stations on Thursday after the weekend holiday. Many vehicles were seen on the Pune-Mumbai highway; and the Pune-Kolhapur, Pune-Nashik and Pune-Solapur highways.
"We are going to Kolhapur and nearby shrines with the family for three days because of the holidays. We had to queue for 30 minutes at the Khed Shivapur naka toll gate," said Sagar Abnawe. Traffic jams were seen on the ghat section of the Pune-Mumbai highway.
"We have deployed more personnel to highways and toll booths in anticipation of heavy traffic due to the three-day holiday," a senior traffic police official said on condition of anonymity.
The birthday of Dr. Babasaheb Ambedkar, Mahavir Jayanti and Holy Thursday was celebrated on Thursday; followed by Good Friday and the weekend. Many people go on vacation to tourist places like Mahabaleshwar, Lonavla and Konkan beaches.
Ambedkar Jayati followed by Good Friday and Easter makes long holidays. With Covid restrictions now relaxed, people are flocking to tourist spots in Mahabaleshwar, Lonavala and Konkan beaches "All of our 25 rooms are booked for four days and rates have increased due to the rush. People also come from Maharashtra and other states," said Chandrakant Pandhare, owner of a three-star hotel in Mahabaleshwar.
Close story
Decoded: The Secret to a Fulfilling Life

Few people can honestly say that they have lived a fulfilling life and the secret lies in optimal management of time, health, relationships and money. Sealing leaks requires identifying areas where time is often wasted. Rationale Being ignorant of one's rationale (raison d'être) leads to a waste of time. Illness and ill health bog us down. Each of us is part of a web of relationships.

Guest column | Slow down and don't forget to say "cheese"

I've always wondered what it's like for celebrities who constantly have paparazzi armed with high definition cameras hot on their heels. However, with traffic police installing these high-tech gadgets on traffic lights, forcing motorists to be constantly on their toes, I think I finally got it. Although I was never a reckless driver, my antennas are now always on alert. The only silver lining is that cops only challenge drivers for violations.

Racket Hawala: former Minister of J&K, his assistant placed in police custody until May 15

Special Judge of NIA Court, Jammu, Sunit Gupta on Saturday denied further police detention of former J&K Minister Jatinder Singh alias Babu Singh and his close aide Mohammad Shareef Shah in the alleged racketeering of Hawala and placed them in custody until May 15. both were transferred to Kot Bhalwal high security prison until 15 May.

Several sanitation workers detained during a protest in Jammu

Several sanitation workers were arrested on Saturday after staging a protest against Jammu Municipality in support of their demands, including the regularization of their service here, officials said. The workers, including women, gathered under the Safaikaramchari Civil Union banner near the Press Club in the heart of town and attempted to march towards the main road when police launched the action, officials said. .