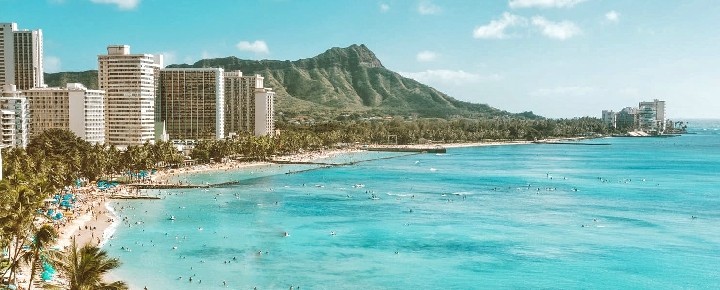 How Some Tourists Are Ruining Hawaii Trips For Everyone
Since the reopening of travel to Hawaii, have you noticed a big difference in the attitude of some visitors? We have. While the majority are some of the most thoughtful and considerate, there is a change for the worse that we are certainly seeing more and more.
"Revenge travel" (getting revenge for canceled travel plans during COVID) has turned into an entitlement attitude for some. It was rampant long before COVID, and since then it's gotten much worse. You may have seen them too. These travelers may be discerning and have higher than reasonable expectations for their Hawaiian vacation. In fact, they can ruin Hawaii trips for the rest of us. Read on for some gory and unfortunate details.
(We see it, for example, in aggressive and inappropriate driving behavior.)
Some might say that licensed tourists were encouraged by the travel industry itself.
Think about the "us versus them" situation of upgrades, premium classes and exclusive features that have become so ubiquitous throughout travel, whether on airlines, or in accommodation and car rentals.
This was born out of travel companies' desire to increase revenue based on elite offerings. The industry has over-indulged those who are willing to spend more or travel more, and in doing so has contributed, at least in part, to the phenomenon of licensed tourism. Now, that has backfired to some degree, and industry players often resent the very people they encouraged.
When some travelers don't get the premium service associated with the us-and-them culture we find ourselves in, they feel free to take action here in Hawaii. As residents, we can tell you that when you see enough of it, it's easy to even begin to think that licensed Hawaiian tourists are more intrusive than they actually are.
Unrealistic Hawaii vacation expectations.
When the expectations of certain visitors are not met, there can be problems. It can ruin the entire travel experience, both for the Hawaii visitor and for those they interact with. Concrete example.
Your editors were sitting inside a Starbucks here in Hawaii this week. A visitor walked in and asked to know the address of the mall's Starbucks. When the employee said he didn't know the mall's physical address, the visitor huffed and swore not-so-kind words.
Within five minutes, another visitor walked in with several non-Starbucks drinks in hand and asked for a tray for their drinks. The employee said he does not provide trays for non-Starbucks drinks. And in this situation too, the visitor left, furious at the way they were received.
Recently in Hanalei, the waves came up with a big undertow, and some young children and their parents were in the ocean. The lifeguard started shouting over the loudspeaker for them to come closer to the pier where conditions were much safer. They refused and the rescuer grew angrier, trying to keep them safe as they disobeyed his warnings. It was as if these visitors were thinking, "We paid for this and we will stay where we want to be. The exasperated lifeguard said he just wanted them to have a safe vacation.
This incident literally took the cake.
The above examples pale in comparison to what happened Tuesday in Maui, when a visitor problem began at Moose McGillycuddy's restaurant. Police were called about a 38-year-old Massachusetts resident who refused to pay her bill or leave the restaurant. After the Maui police arrived, she agreed to pay the bill, but still wouldn't leave Moose McGillycuddys.
The visitor was later arrested for disorderly conduct and refusing to leave, and transported to Kihei Police Station. As they got into the vehicle, they bit the policeman. Alcohol may have played a role.
Charges against the woman, identified by police as Corey Campbell, now include assault on the officer in addition to previous offences.
Air rage incident in Hawaii.
So what comes next? Do they bite a flight attendant on the way home? Which airline would want them as a guest? It reminded us of the chilling Hawaii air rage incident that happened recently.
Your comments at this point.
"A key problem seems to be that many tourism-dependent businesses market the entire state as one theme park paradise. This leaves tourists disappointed when locals don't act like theme park employees, and locals are insulted to be treated as such. Hawaii is not Six Flags; it is a unique combination of cultures that over-tourism is killing. (Robos)
"As a long-time local, I can tell you that there is nothing that will make everyone happy. People seem to want to be unhappy these days. It breaks my heart to see this lack of Aloha and discord. There's nowhere on Earth quite like Hawaii. (Pam)
"Those who work in the service sector here are seriously done and mentally exhausted from dealing with this same disrespectful and legitimate attitude from visitors. Can you blame them? Travel has unfortunately changed for the worse. More and more travelers travel to trample and conquer. Sad!" (GR)
Yes, Hawaii is authentic.
Pam is right. With all of its problems, Hawaii is still unique. It's about people, aloha, nature, the environment. These remain the remote islands of the world and we welcome visitors on an incredible journey away from the everyday and unlike anything you will find elsewhere.
No, Hawaii is not an amusement park.
You have said it several times. The people who live and work here are not like Disney employees. As an industry, Hawaii travel wants to please visitors, and we hope visitors enjoy who we are and what we have to offer.
Hawaii, unlike the Polynesian Cultural Center on Oahu, is not a manufactured experience designed like a giant park for tourists. If you're expecting this, you're in for almost certain disappointment. Hawaii is real, and it's primarily the home of its people. Step into our real world. Visitors impact the lives of those who live here.
When you ask what Hawaiians think of visitors.
We were recently asked, "Are visitors really hated by most locals?" Are the majority of visitors as horrible and rude as what I read on Facebook? There were so many locals claiming how much they hated visitors.
Visitors may feel as if they are grouped together with a pile of rotten eggs. And Hawaii residents may have a similar take.
With tourism back to peak, it's easy to see more traffic, crowds and frustration. Hawaii is preparing to welcome more than 10 million annual visitors. That, compared to our total population of a measly 1.4 million.
Please enter our world, gently. We live here, with the flora and fauna of Hawaii. When you come here to visit, we are happy to share our ways of life, when you are open to it. This is the real world, and Hawaii isn't close to perfect, nor are we trying to pretend it is. Hawaii is real. Please join us in treating Hawaii as a jewel and helping to respect and protect it for all of us and for future generations.
Disclosure: We receive a small commission from purchases of some of the links on Beat of Hawaii. These links cost you nothing and provide you with the revenue needed to provide you with our website. Mahalo! Privacy Policy and Disclosures.