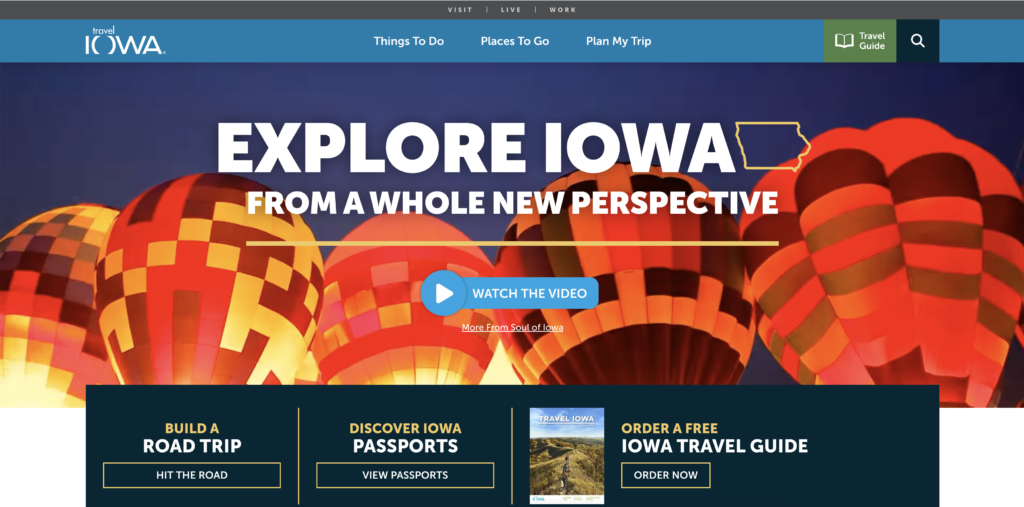 Iowa Tourist Board Launches Redesigned Website and Travel Guide
The Iowa Office of Tourism has launched a redesign of traveliowa.com and the latest edition of the Iowa Travel Guide.
Updated website
The new website uses a content-driven approach, highlighting unique and inspiring ideas that invite users to explore Iowa using rich photography, featured articles and interactive tools. Simplified navigation leads users to the best content. Additional site enhancements include new travel areas more closely aligned with traveler needs, easier use across devices, improved page speed, and accessibility enhancements.
"It's been almost a decade since we last did a major overhaul of traveliowa.com," Amy Zeigler, head of the Iowa Office of Tourism, said in a press release sent by the organization. . "This redesigned site better meets the needs of today's travelers and allows us to show the best of Iowa through engaging stories and stunning photography. Combined with the latest Iowa Fall/Winter Travel Guide, we hope to inspire many trips across the state.
latest travel guide
The 140-page Iowa Fall/Winter Travel Guide includes listings of hundreds of authentic and unexpected destinations, cabins and campgrounds.
According to the release, the editorial content features museums and mansions, barns and grain silos converted into lodging properties, 99 hidden gems, winter skiing and ways to celebrate the holidays.
The free guide can be ordered online at traveliowa.com, by phone at 800.345.IOWA, or picked up at one of 14 Welcome Centers across Iowa. An online version isalso available.
The Iowa Office of Tourism, part of the Iowa Economic Development Authority, works closely with community partners, attractions and events to promote the magnificently expansive scenery and history sole of the state.
According to the release, tourism in Iowa generated $1.5 billion in tax revenue in 2020, with more than $860 million supporting state and local governments, while employing a total of 60,218 people in the whole state.