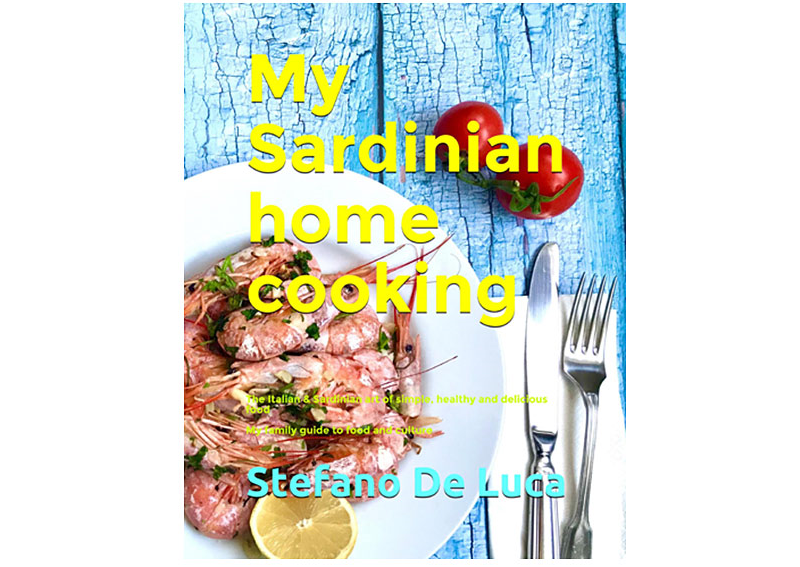 New Sardinian travel guide and cookbook embrace some of the island's favorite dishes
A stunning book brimming with the author's passion for the delicious, healthy and colorful cuisine of his native Sardinia, as well as photographs (the author's own) that capture the vistas, culture and joie de vivre of his Sardinian compatriots.
Dedicated to his mother, this volume of 50 carefully curated recipes showcases the vibrancy and tantalizing range of traditional Sardinian home cooking, as well as its versatility and use of inexpensive ingredients that almost guarantee the taste of the sun.
Keen to convey all that it means to be Sardinian and to love your food, the author also provides an insightful and helpful 'survival guide' designed to help readers navigate cooking terms, ingredients and more. Again.
An amazing and multi-faceted book, which is also a remarkable tribute to the author's beloved mother, My Sardinian Home Cooking, one of those books that will touch the hearts of all foodies and lovers of island life eager to bask in the metaphorical Sardinian sun, while sharing utterly delicious plates with loved ones.
Synopsis:
The Italian and Sardinian art of simple, healthy and delicious cuisine; my family guide to food and culture.
My mother taught me how to cook when I was 8 in a simple and efficient way. I proudly present to you today my Sardinian home cooking guide, with its colorful and delicious food flavors combined with photographic landscapes offering 50 years of emotions with 50 selected recipes. I dedicate this book to my mother, a wonderful mother and cook, who inspired me a lot. My cookbook offers the reader how to cook simple and delicious recipes, through my step-by-step instructions, for all budgets.
As Sardinia becomes a regular international tourist hotspot, as a native of the Italian island I present an authentic taste of home-cooked Sardinian, Mediterranean and Italian cuisine. Tourists have always enjoyed restaurant food, but this is the first Sardinian home cookbook.
This volume is 18 chapters: Chapters 1-9 present my mission statement and vision for this book, an introduction to the island, an easy-to-read survival guide to Italian cooking terms and everyday meals, Sardinian ingredients including herbs with their qualities and health. factors, all available in supermarkets, dry and fresh pasta categories, meat and fish production, healthy diet and lifestyle, its natural beauty.
Chapters 9 to 18 present my recipes laid out as usual from appetizer to dessert with good and healthy ingredients, tips and how to do it: from bread appetizer to loaf of sourdough bread and sourdough bread. spelled; starters like bruschetta and seafood, pasta dishes mixed with a variety of meats, fish and vegetarians; how to make classic tomato sauces; flavorful cooked and grilled meat and fish dishes; vegetarian side dishes for all tastes; delicious tangy fresh salads and two spongy cakes for dessert.
I created a unique and original book featuring my food and a short story combined with high quality photos, all protected by my copyright.
The author says:
"Remembering my time with mother; it was in a blissful moment we spent together enjoying his food, his home was always uplifting with joy and laughter, embracing the flavors and aromas of tasting with his exquisite home cooking, simply made with love for food and life itself. I want to share his humble legacy.
Scoring five stars, Amazon readers say:
"It's a wonderful self-published book that takes you to Sardinia and thrills the taste buds. Stefano the author really pours his heart and soul into this heartfelt book. Using recipes from her mom, this book is the story of the party, part self biography with delicious recipes and pictures in between. I can't wait to see more from this talented author! A must if you like traditional rustic Italian food." – listener123
"I love this book, not just for the amazing recipes, it leaves you feeling like you've been to Sardinia. It tells the story of the place and you can imagine all the delicious food on your table to share with your friends and family. I will be looking for more Stefano De Luca!" – J Merryweather
"Stefano has a passion for the cuisine and culture of his native Sardinia that shines through in his writing, while the fact that so many recipes have been passed down from his mother adds a sentimental charm. Beautiful photographs throughout the book inspire you to try the recipes. Although I have not yet gone on vacation to Sardinia, these recipes can transport me until the circumstances allow it. –Johnny Maltby
"This book is written with heart, excellent notes and easy to read recipes and beautiful pictures too. It's real healthy and authentic Sardinian cuisine. – R. A. Maltby
"A great book from an author with a passion for cooking, culture and family. We really enjoyed trying Italian recipes that we had never seen before, Sardinian style!!! Cheer!" – dave99
My Sardinian Home Cooking, independently published, is available on Amazon as follows:
Hardcover (£34.00) – https://amzn.to/39uVS8O
Paperback (£28.00) – https://amzn.to/3LolKjJ
Kindle format (£11.90 or free on Kindle Unlimited) – https://amzn.to/3sHgCki
About the Author:
The author says: "I am Italian by birth, I was born in Cagliari in Sardinia but have lived in London for a very long time and more recently in Southsea in Hampshire, a fantastic seaside town part of Portsmouth.
"I'm not a chef or a haunting brand, but I'm a simple person with a passion for food, life, travel and writing, with something special and personal to share.
"My first book 'My Sardinian Home Cooking' is an authentic, simple but honest family cookbook from my birthplace, Sardinia.
"Mom was a very special person, she loved to cook, she always had a positive outlook on life, constant positive energy, even when life was tough. I dedicated this book to my mother primarily, to keep her legacy alive , not only in the big family but also for his extended family.
"The traditional recipes are simple to execute and the ingredients easy to find, my book wants to be a mixture of culture, travel and food from my personal experience, a collection of my photos of Sardinia, my history and my family cooking. "