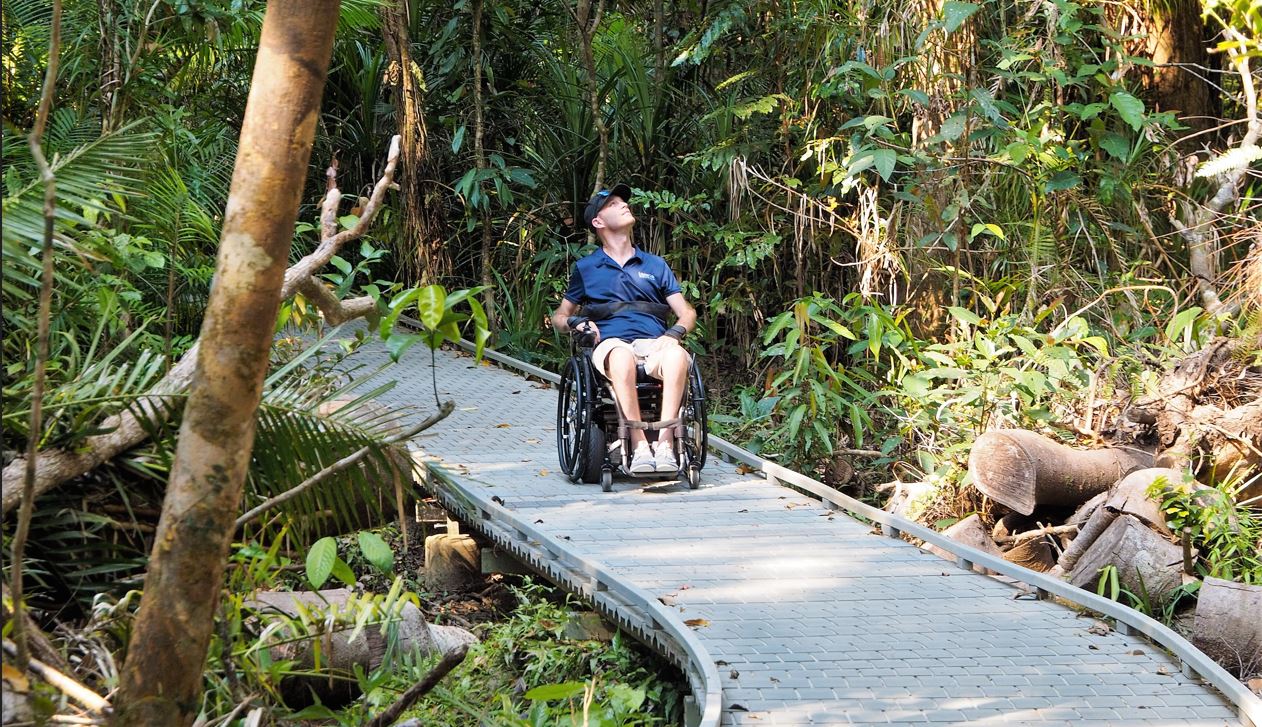 NEWSPORT DAILY – Wheelchair blogger rates Douglas sights
No crocodile shock
Imogen was also very impressed with Hartley's Crocodile Adventures at Wangetti. "With most of the park fully accessible to wheelchair users, the team has gone above and beyond to accommodate people with all kinds of disabilities and visually impaired visitors can enjoy a specially created tour that shows them the best of native wildlife, and guide dogs and companions or carers are welcome," she said.
swim the reef
Imogen also gave a glowing report on Quicksilver and their catering for wheelchair visitors to the Great Barrier Reef. She says, "Step aboard a Quicksilver Cruises boat that features reef platforms with spacious ramps, wheelchair-friendly bathrooms and even ramp facilities to the floating reef platforms. outer coral and the hydraulic lift that allows wheelchair users to swim with the creatures of the deep blue is the only one of its kind on the reef"
Wheelchair-friendly stay
Our wheelchair blogger needed a place to stay and found digs very accessible. "Minutes from the beach and the charming bustle of Port Douglas town, Macrossan House is one of the main pillars of luxury in Port Douglas, offering a fully accessible stay, their apartments are home to one bedroom, one bathroom and an accessible kitchenette and for those who wish to rest here, the accessible apartments are accessed via the ground floor with no steps or thresholds to navigate," said Imogen. Of course, many accommodation operators in the area already welcome visitors with disabilities.
Eat easy
Imogen has given a few of our iconic restaurants a Guernsey as well as Port Douglas itself. "The town itself is generally accessible meaning those with limited mobility will be able to enjoy the quiet buzz of this charming coastal town with special mentions for The Tin Shed which offers both incredible views from the entrance from Port Douglas and as well as parking, a ramp and a lift for travelers with variable mobility, Salsa Bar & Grill also has an accessible bathroom and ramp access, but it is always best to call ahead to be sure the feature will meet your needs," she said.
Tourist opportunity
Senior Access and Advocacy Advisor for Spinal Life Australia, Dane Cross, said the accessible tourism market represented a largely untapped opportunity for tourism operators. "It has been great to work with Tourism Tropical North Queensland on this project and in our opinion this is the best accessibility information available for any region of Australia," he said.
For Imogen's full update on these and other Douglas spots, go to
The Accessibility Center is at https://www.tropicalnorthqueensland.org.au/plan-your-trip/accessible-travel/