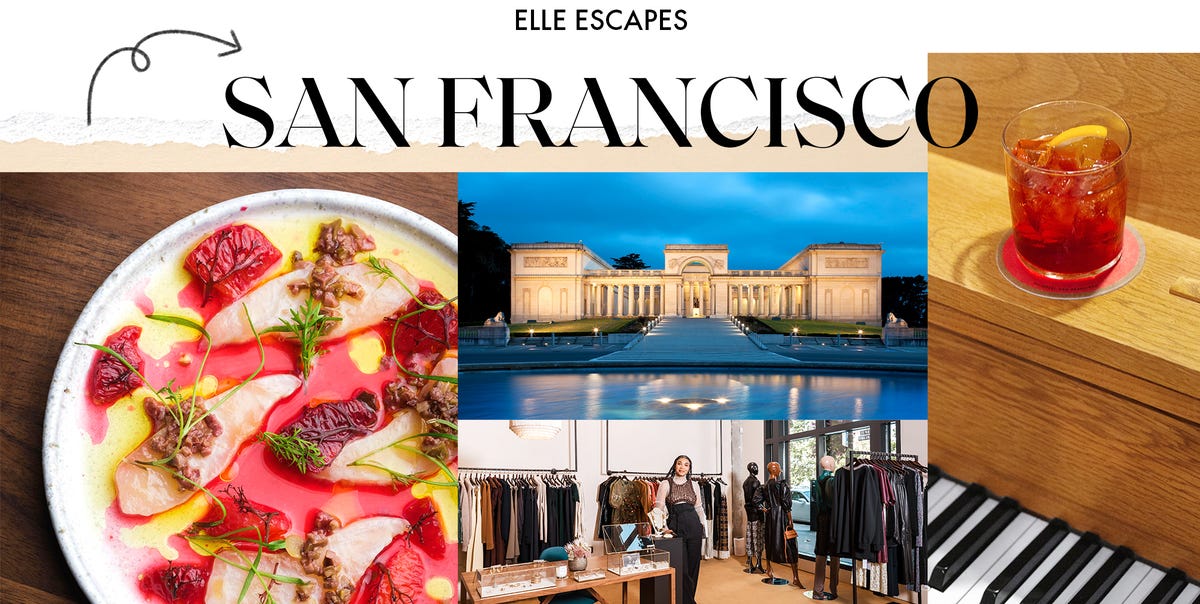 San Francisco Travel Guide – Best Places to Visit and Eat
San Francisco is much more than friends of technology and polar. The city's fashion profile has steadily grown, with an exhibition of high fashion and world-class independent boutiques, not to mention a restaurant and bar scene that will give you plenty of opportunities to show off. your new looks. Here, all of our picks for what to see, shop, eat, and do while you're there, plus build your startup empire.
"Guo Pei: Couture Fantasy" at the Legion of Honor
Until September 5, the Legion of Honor Museum hosts the breathtaking work of Chinese fashion designer Guo Pei, best known in the United States for designing Rihanna's Met Gala dress in 2015. More than 80 breathtaking pieces are on display ( and deserve close-up viewing).
McMullen
Knitwear from Aisling Camps and jewelry from Khiry are just a few of the treasures you'll find in Sherri McMullen's perfectly curated shop, which is just celebrating 15 years in business.
City Lights Bookstore
Channel your inner rhythm at this North Beach staple that's been around since the 1950s and has attracted everyone from Jack Kerouac to Allen Ginsberg. Don't miss the poetry room upstairs.
The band
You'll be transported to Barcelona at the Proper Hotel's stylish restaurant, which serves an inventive range of tapas and appetizers. (The salt cod croquettes are a standout.) The Kelly Wearstler-designed interior, with her witty play on striped patterns, is also eminently Instagram-worthy.
Flour + Water
This Mission District stash is known for its inventive pizza and pasta, and the space recently got a chic new design. The pasta tasting menu is a splurge that's well worth it (trust us).
Empress by Boon
In the former banquet hall of the Empress of China, Chef Ho Chee Boon, a Hakkasan veteran, offers a modern Cantonese menu with an emphasis on local, seasonal ingredients.
Fisherman Loft
Housed in the Palihotel, this charming bar-restaurant will reopen soon, according to its Instagram account. Expect caviar-adorned burgers, cocktails and afternoon tea in a bright, friendly atmosphere.
The Beehive
Don Draper might have fit right in at this mid-century-inspired cocktail bar, though he might have been surprised by the elaborate mixology prowess, including an Elvis-inspired blend of peanut-flavored bourbon and caramelized bananas. The Beehive also serves up the ultimate salty treat of the 60s: fondue.
red window
Spritz and other unresponsive cocktails by co-owner and mixologist Elmer Mejicanos are the order of the day at North Beach's charming Spanish bar and restaurant.
Palihotel San Francisco
Housed in a historic building, this Union Square gem features retro touches like old-fashioned elevators and vintage landlines, plus modern upgrades (Diptyque products and a themed Spotify playlist). Noir fans can check out the driveway behind the hotel, which features a plaque honoring one of Dashiell Hammett's famous characters.
San Francisco Hotel
A circa-1909 building in the Mid-Market district now houses a branch of the popular Proper Hotel, with maximalist interior design by Kelly Wearstler and that rare San Francisco amenity: a rooftop bar with stunning city views .
Line
San Francisco's latest addition is an outpost of the beloved The Line franchise, which already has locations in LA, Washington, DC and Austin, Texas. The Handel Architects-designed stunner is set to open on September 1 and will feature a restaurant and bar (naturally).