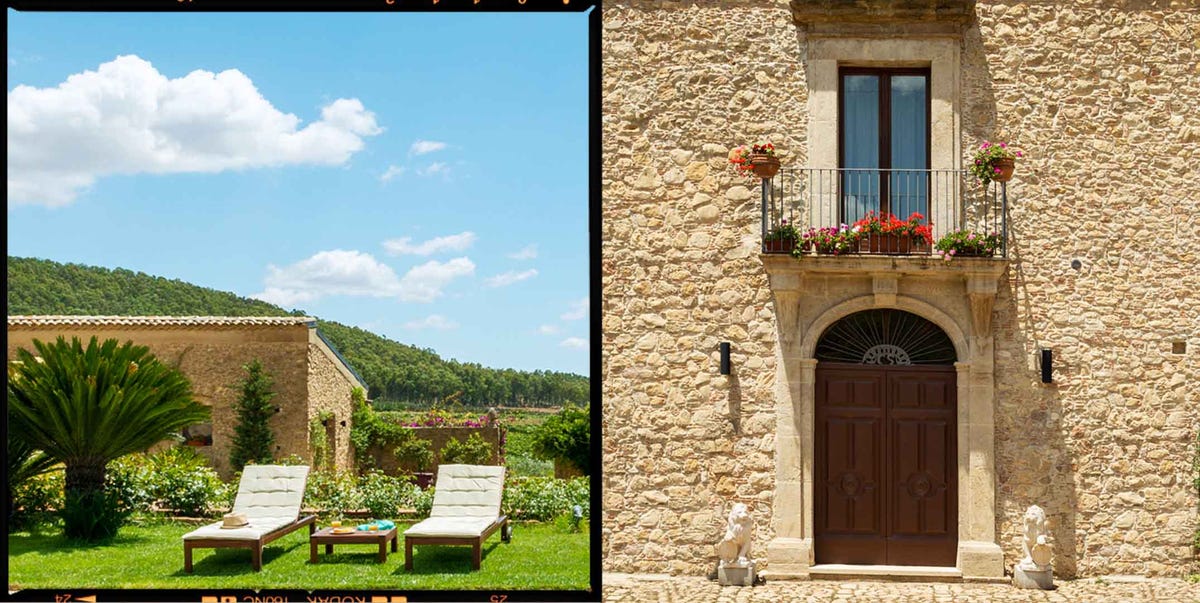 Where to sleep, what to eat and what to do
Green hills, plates (and plates and plates) of antipasti and prickly pears as far as the eye can see: pretty Sicily will take your breath away. During my trip, I visited two stunning parts of the island in southern Italy; San Michele di Ganzaria in the south of Sicily and Cefalù on the coast in the north of Sicily. Both regions are steeped in rich history, with plenty to take away when you're not feasting on arancini, stuffed sardines, boiled octopus or cannoli.
WHERE WE STAYED
Casale degli Erei, San Michele de Ganzaria
Our accommodation, two charming villas, made the trip even more special. Villatravellers offers a wide range of over 70 stunning villas across Sicily, ideal if you are traveling in a larger group and hoping for a more homely and intimate atmosphere with an in-villa kitchen and plenty of common areas to spend time with friends. friends. or with family. The first villa we stayed in, Casale degli Erei Villa, is located in the Catania area near Ragusa, an hour and 30 minute transfer from Catania airport, and is the definition of what you would imagine a traditional Sicilian property. It includes nine spacious rooms distributed in the main building (photo below) and the guest house.
The main villa houses a huge dining room and kitchen with a roaring fireplace, as well as a cozy front room where you can settle in after a long day of exploring. Outside, you'll find plenty of pretty nooks to sip your morning coffee or have a meal. And, believe us, you'll never be bored with the scenery because everywhere you look you're greeted by the most beautiful sights: endless fields of prickly pears, vineyards and Italian cypress trees lining the roads leading to the villa. . To top it off, the villa also has a superb swimming pool and spa with hydromassage pool, whirlpool, Turkish bath and chromotherapy shower.
The Borgo del Barone, Santo Stefano de Camastra
For the second part of the trip, we went to Cefalù where we stayed at another Villatravellers property, Il Borgo del Barone, located in Santo Stefano di Camastra, a 30-minute drive from town. This villa dates from the 17th century but has been given a makeover, it now mixes the traditional with contemporary touches. For example, after being greeted by an old olive press in the entrance hall, the next room you arrive in is a bar area with state-of-the-art technology. Able to accommodate 14 people, the magnificent property includes seven double bedrooms each with its own bathroom, a huge dining room and multiple relaxation areas. There is also a lovely outdoor swimming pool and a paved courtyard with a barbecue.
The Villatravellers are great hosts and are there to make your stay as comfortable as possible. They organized a cooking class for us in the villa where we gorged ourselves on Sicilian street food. Thinking of everything, they'll also buy groceries for you, so you don't have to worry about rushing to stock up as soon as you land in Italy.
WHAT WE HAVE DONE
Mountain La Rocca in Cefalu
For beautiful panoramic views of Cefalù, a hike up La Rocca mountain is a must. It takes about 45 minutes to reach the top, and it can be quite steep in places as the trail turns from cobblestone to rocky, but don't let that put you off. Just make sure you wear proper walking shoes or trainers, carry water with you, and avoid going in the middle of the day when the sun is hottest.
Santo Stefano de Camastra
Located on the north coast of the province of Messina, Santo Stefano di Camastra is a charming little village, part of the Nebrodi Mountains Park, and above all known for producing the best ceramics. We couldn't resist bringing home some pretty trinkets (wrapped in large amounts of paper).
Villa Romana del Casale
Famous for its rich collection of intricate Roman mosaics, many of which are still in excellent condition, the well-preserved villa spreads over a vast site. A major highlight, prepare for your camera roll to be filled with shots of the incredible hallway featuring the 'Great Hunt' which spans the width of the villa. Tip: I took a guided tour which I highly recommend as it really helped bring the mosaics to life.
Cooking class
During our stay at the first villa, Casale degli Erei, we enjoyed a cooking class with a family business custome. Ideal to make with friends or family around the table while sipping a chilled glass of rosé, we have created a series of Sicilian street food dishes from A to Z, including the Sicilian-style Rianata pizza with anchovies, cherry tomatoes and pecorino cheese and the cannolo siciliano stuffed with ricotta. Delicious!
Wine tasting
Also hosted in our first villa by the lovely owners, we sampled a variety of wines from the villa owner's wine range while munching on Italian ham and cheese. A must if you are in Sicily, and this can be arranged through Villatravellers.
WHERE WE EAT

Restaurant ITTICO – Cefalu
A local fish restaurant with lovely sea views, this restaurant serves first class seafood and pasta. Choose to eat outdoors to enjoy the waves lapping on the shore as you weave your way through several tasty dishes. Once done, you can leave the food by strolling through the narrow streets of Cefalù lined with shops and colorful hidden doors leading to people's seaside homes.
Agriturismo Gigliotto – Piazza Armerina
Surrounded by the most beautiful scenery, we headed here after visiting Villa Romana del Casale, a 20 minute drive away. We feasted on several seafood, meat and pasta dishes that kept popping up (and popping up) so this is definitely the place to visit on an empty stomach.
Getting There
We flew from Gatwick to Catania airport for our stay at the premier villa. From Cefalù, we returned home via Palermo airport, to return to Gatwick. A rental car or taxi transfer will be required if you are staying at either villa. These can be pre-booked through Villatravellers.
For more information about Villatravellers and to book accommodation, go here.
This content is created and maintained by a third party, and uploaded to this page to help users provide their email addresses. You may be able to find more information about this and similar content on piano.io